What is DanceBlue?
DanceBlue is a University of Kentucky student-run organization that fundraises year-round and culminates in a 24-hour no sitting, no sleeping dance marathon. DanceBlue raises funds and awareness for the fight against pediatric cancer while supporting patients and families affected by it. The money raised through DanceBlue is donated to the Golden Matrix Fund, established to support the kids of the DanceBlue Kentucky Children's Hospital Hematology/Oncology Clinic both today and well into the future. The Golden Matrix Fund supports groundbreaking pediatric oncology research, enhances the patient experience, and supports Clinic Operations. DanceBlue will continue to spread joy to those fighting, to persevere in memory of the lives lost, and to celebrate every victory until the battle against pediatric cancer is won.
Interested in learning more? Go to Our Story Page!
Fundraising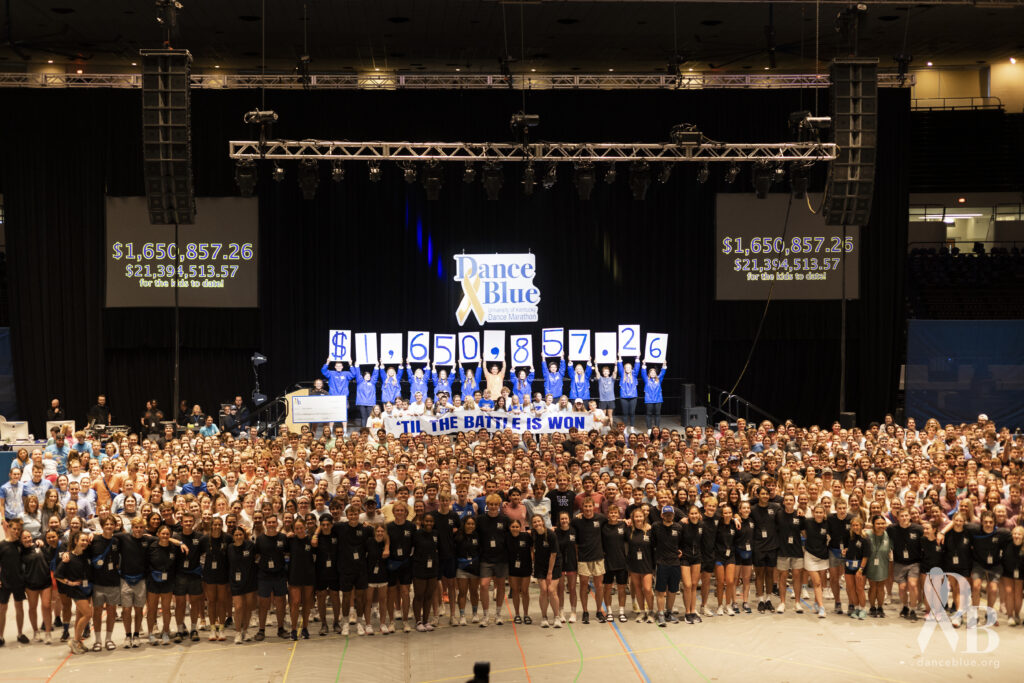 Where can I turn in cash and/or checks?
The Ticket Center, located inside the Gatton Student Center on the University of Kentucky's campus, collects DanceBlue cash and check donations. If donating checks, please make sure they are made out to DanceBlue.
What do I do if my team's total on Network For Good does not match DanceBlue Funds?
Don't panic! Network For Good only tracks online donations, while DanceBlue Funds will record online as well as cash and check donations. Therefore, it is possible that they do not match. Please allow time for both types of donations to process and appear on your DanceBlue Funds page. If you are concerned about this, you are welcome to reach out to our Fundraising Chair at [email protected]!
How do I know how much money I have raised?
Your team captain will have access to DanceBlue Funds, our online database that tracks fundraising amounts, and they will be responsible for keeping track of how much money each individual on your team has raised.
How much money do I need to raise to be a dancer?
The minimum fundraising requirement for dancers is announced well in advance of the marathon each year! However, this does not guarantee a spot on the floor. Due to capacity restrictions, only a certain amount of dancers are allowed on the floor. Therefore, dancers may not be given a spot on the floor even if they have raised the minimum. We encourage dancers to raise as much money and spirit points as they can to avoid missing out on the best 24 hours of the year!
Involvement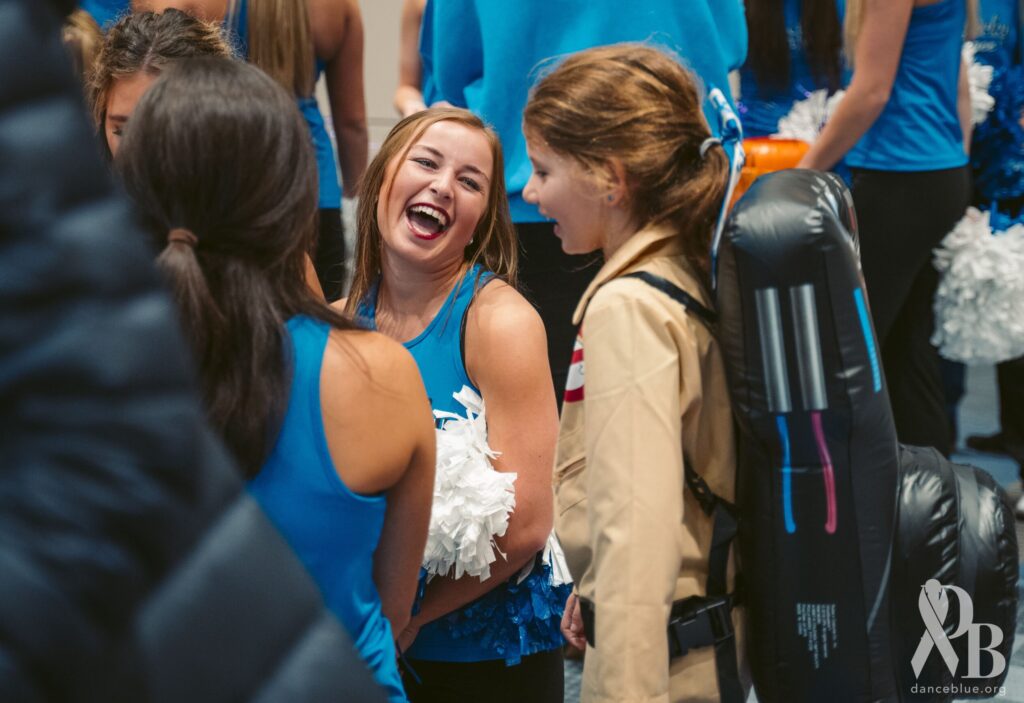 How do I start a Mini Marathon at my high school?
Contact the Mini Marathons Chair, at [email protected]. You will receive a packet that further explains the instructions about establishing a mini-marathon at your high school or any school.
How do I get more involved in DanceBlue other than just being on a team?
We encourage you to apply for Committee! Committee applications go live about a month after the marathon. Our Committee consists of different sub-committees, coordinators, and chairs. If serving on committee is not right for you, keep your eye out for various DanceBlue events that occur throughout the year, such as the DanceBlue 5K and the Silent Auction in the fall or marathon volunteer opportunities in the spring.
How do I get on the dance floor?
First, you will create a team and determine a responsible team captain who will register your team on danceblue.org! Throughout the year, meet fundraising goals, earn spirit points by attending various DanceBlue events, and then rock out on the dance floor with 1,000 of the coolest people.
What if I don't have a team to join but still want to dance? 
Applications for the Individual Dancer Team will go live on BBNvolved after traditional team registration has ended. Stay tuned for announcements on our social media about how to be an individual dancer!
Marathon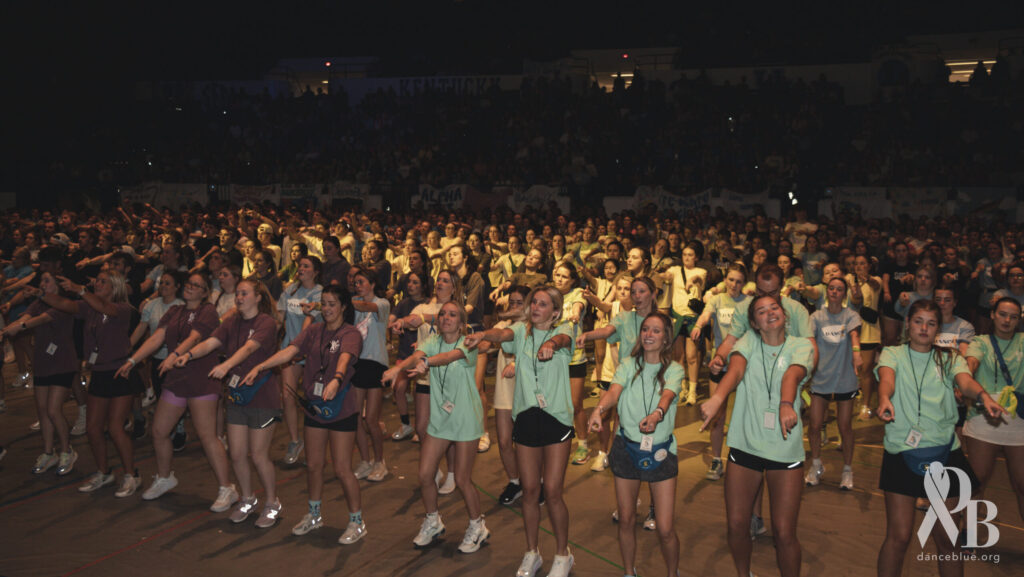 Can my family and friends visit me during the marathon?
We love having friends and family in the stands to cheer on dancers, but they cannot stand on the floor with you. However, you are still able to chat with them in specific areas. Friends and family are also welcome to volunteer at the marathon. Keep an eye out for volunteer sign-ups for the marathon a few months before the event!
Will I be dancing all 24 hours?
Not unless you choose to! Dancing is only one of the many elements of the marathon. Activities such as games, performances, contests, and many others may be at the marathon as well.
What do I need to bring to the marathon?
Anything that you can fit in your dancer bag! We highly suggest a few changes of clothes, multiple pairs of socks and undergarments, extra shoes and flip flops, a toothbrush/toothpaste, deodorant, tennis balls to roll out your feet, small snacks, hair ties/headbands, and a phone charger.
What should I wear during the marathon?
Leave your fancy clothes at home and wear something comfortable! Try athletic shorts or leggings, paired with comfy shoes. A lot of teams come dressed in a matching shirt or tank top, but it's not mandatory. Also, don't forget your fanny pack to have quick access to items, such as your cell phone, charger, gum, hair ties, deodorant, and Chapstick!
Teams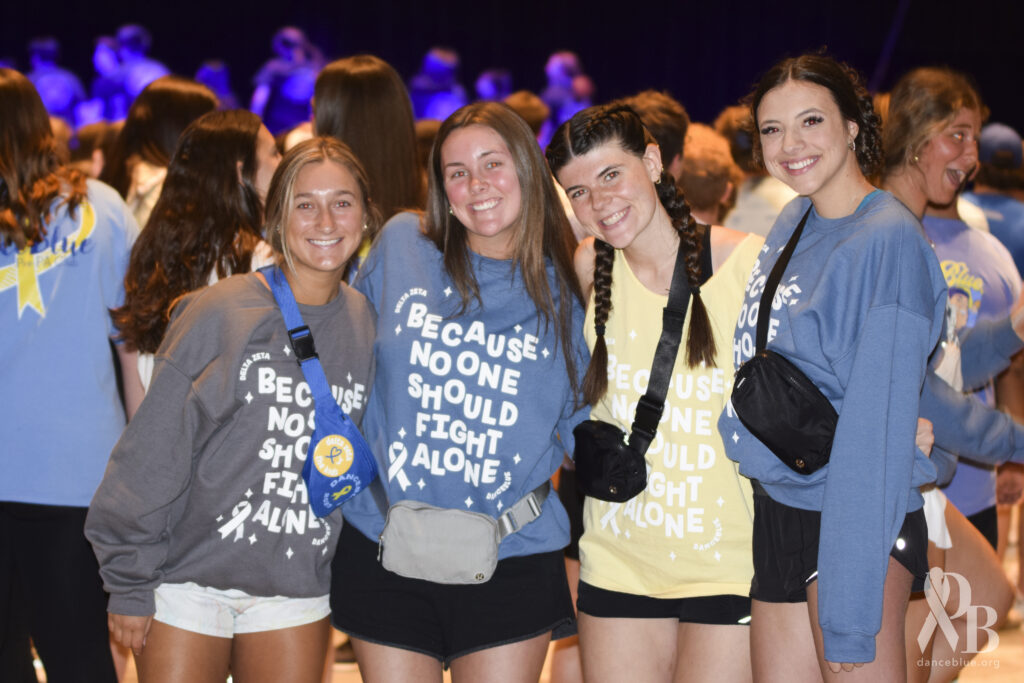 What are 'Spirit Points'?
Spirit points are earned by attending DanceBlue events, such as ones hosted by individual teams (i.e. restaurant nights), and by DanceBlue (i.e. DanceBlue 5K). Spirit points are one of the factors that determine who can dance at the marathon, so be sure to earn as many as possible!
What are Team Captains?
Team captains are the representative of his/her team. Team captains are responsible for passing all DanceBlue information along to their team members, tracking each of their team members' donations through DanceBlue Funds, as well as attending bi-weekly meetings in the Fall and weekly meetings in the Spring.
Who can be on a team?
Any UK student is welcome to be on a team! Teams may include your friends, dorm communities, or student/Greek organizations.