Our Clinic
A portion of the funds raised through DanceBlue supports several programs that directly help with the patient experience. Money raised through DanceBlue provides financial assistance to patients and families with hotel vouchers, gas cards, food vouchers, and more. Another portion of funds goes to enhancing the clinical and psychosocial care of our patients. DanceBlue is able to fund Clinic improvements and expansions, a Child Life specialist, two School Intervention Specialists, social workers, neurocognitive testing, nutritional services, and more. A final portion of the funds supports pediatric oncology research happening in the DanceBlue Clinic, currently focused on the genetic risk of pediatric cancer in Kentucky and ways to improve healthcare outcomes in patients with genetic risks. Through these various initiatives, DanceBlue provides immediate care and support for patients and families whilst working to improve knowledge of and treatments for pediatric cancer in the long-term.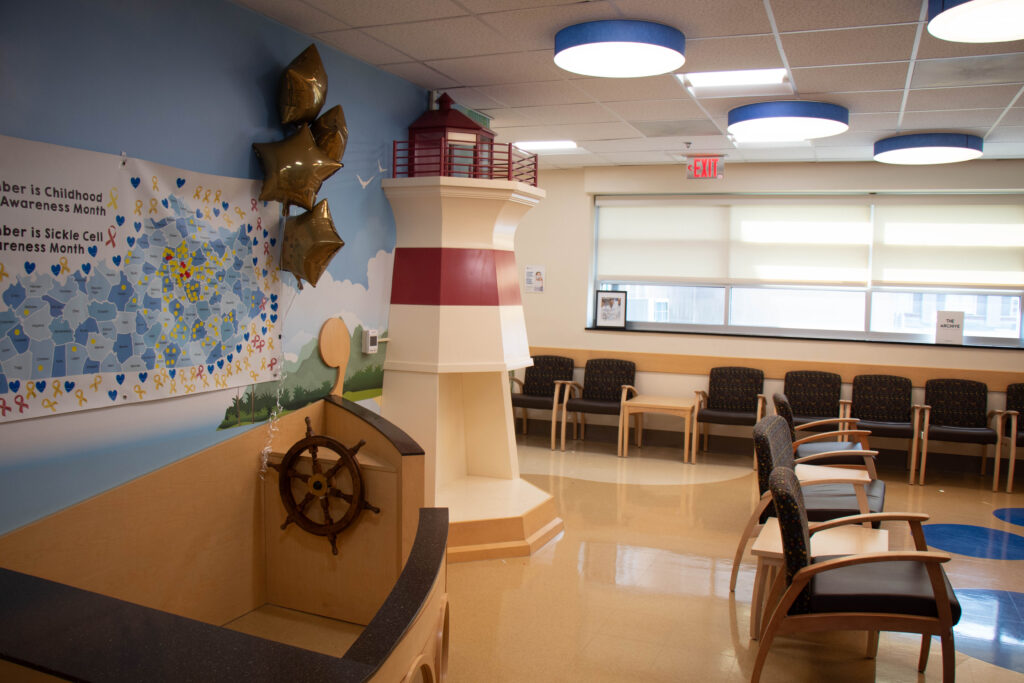 In 2017, DanceBlue pledged $1.225 million to completely renovate and rename the Clinic as the DanceBlue Kentucky Children's Hospital Hematology/Oncology Clinic. This renovation completely transformed patient care: the Clinic now boasts 7 infusion rooms, 6 exam rooms, an interactive waiting room with a 300 gallon fish tank, and more privacy and comfort for patients and their families.
Our Involvement
Family Events: Our Family Relations Committee hosts a variety of events annually to provide clinic families with an opportunity to build lasting friendships in a non-hospital environment. Additionally, it provides opportunities for our patients to "just be kids" and enjoy games and activities. Some of our most memorable events include Family Day at Keeneland, DanceBoo, and DanceBlue's Big Blue Bash. For more information regarding family events, please contact our Family Events Coordinators at [email protected].

Clinic Volunteers: The Family Relations Committee and Chair Team volunteer weekly in the DanceBlue Clinic. Through this experience, volunteers are able to provide support and companionship to patients and families during their appointments in the DanceBlue Clinic. Volunteers are eager and ready to play multiple rounds of card games, build every single craft in the Clinic, and create an army of Play-Doh snowmen. Most importantly, volunteers are there to ensure that patients have as many fun and joyful moments as possible while in the Clinic.