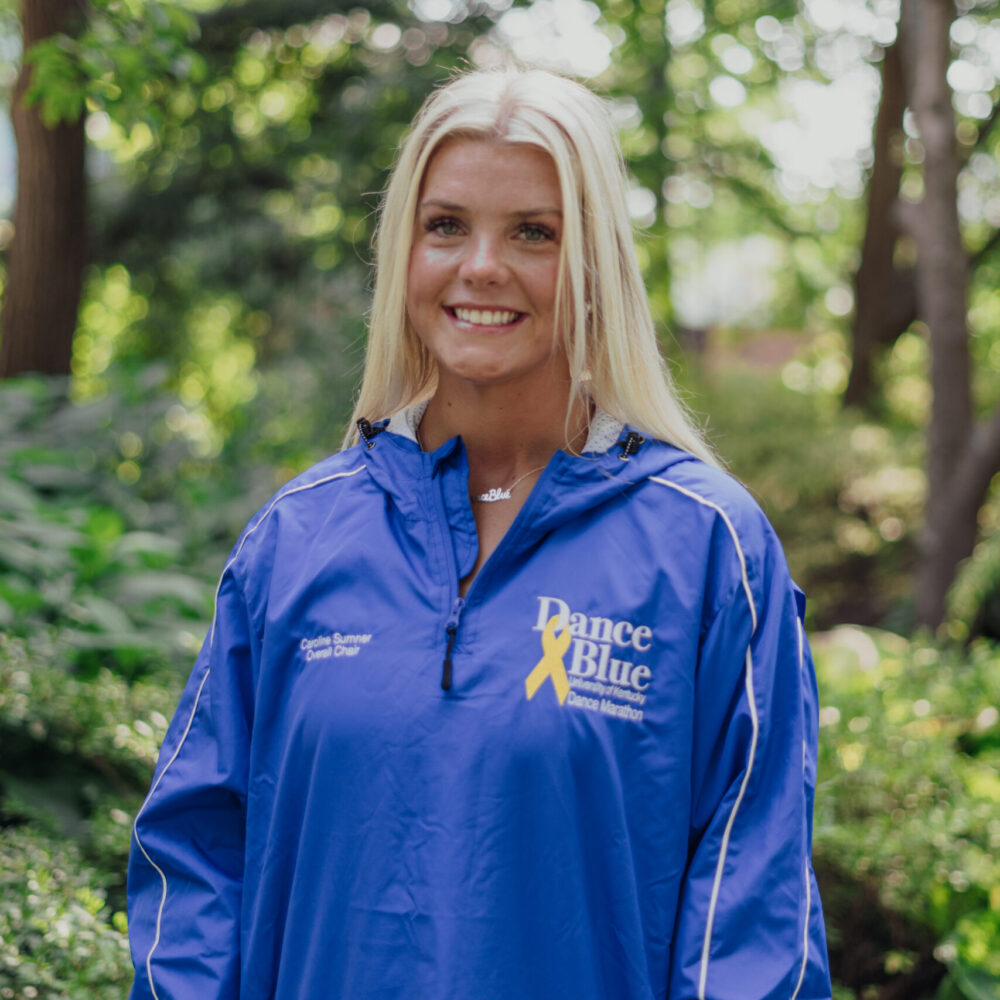 Caroline Sumner
2024 Overall Chair
Hometown: Louisville, KY
Major: Neuroscience, Biology
Minor: Business
My first introduction to DanceBlue was through some of my friends who were on Committee and constantly talked about how much they loved DanceBlue and supporting the Clinic kids and families. Their love and passion for DanceBlue's mission inspired me to get involved and I joined the Operations Committee for DB22. The next year, I was the Food Coordinator on the Operations Committee before I applied to be Overall Chair for DB24. Today, I continue to be inspired by the love and passion for DanceBlue I see in my peers, with thousands of students and community members coming together to support the most resilient kiddos and their families. I love DanceBlue because it's a family; DanceBlue patients and families, DB supporters, Committee members, Clinic staff, and alumni all contribute to the magic that is DanceBlue.
If you want to learn more, don't know who else to contact, or want to talk anything DanceBlue, please reach out to me!
Community Development Committee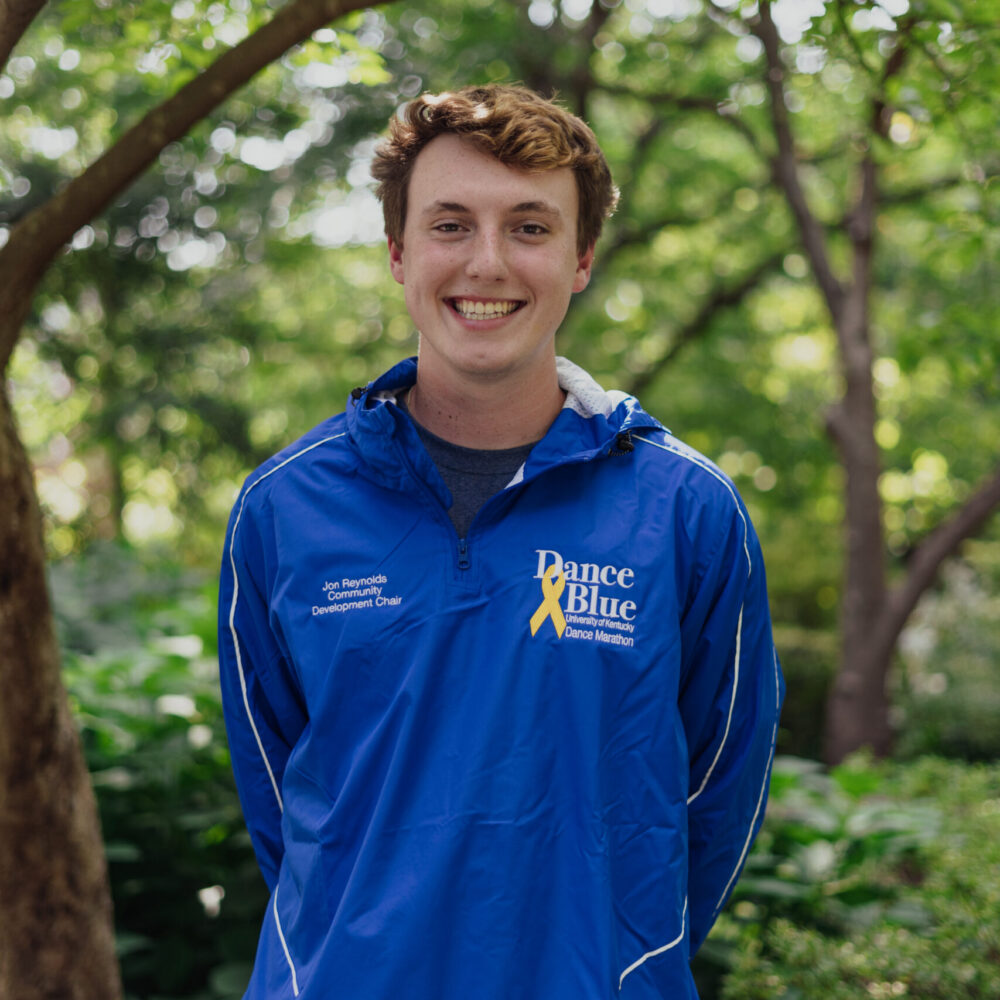 Jon Reynolds
Community Development Chair
Hometown: Lexington, KY
Major: Mining Engineering
I was first introduced to DanceBlue through mini marathons at Lafayette High School, here in Lexington, where I participated all 4 years. Once I decided to come to UK, I knew DanceBlue was an organization I wanted to get involved in. I always knew DanceBlue had a profound impact on the families in the Clinic, but I could not have imagined the magnitude of the role that DanceBlue would play in my life throughout college. My freshman year, I participated in the virtual marathon with my fraternity. Following that marathon, former Mini Marathons Chair, Cliff York, invited me to apply to Committee. I was so fortunate to be selected to the best committee, Morale, and was a part of it for the last two years. This year I am serving as the Community Development Chair and could not be more excited for DanceBlue 2024!
If you're a student organization, a university organization, or a local business and want DanceBlue to bring information to your event, reach out to me! Also, if you're a DanceBlue alumni in any capacity, you'd reach out to me as well!
Addison Johnson
Amelia Fincher
Andrew Dobbs
Aryan Patel
Ashley York
Audrey Scherr
Betsy Billings
Caleb Tackett
Cameron Snyder
Cara Cowans
Chad Bates
Chase Eastham
Christopher Taylor
Dalton Betram
Deya Andreev
Elizabeth Frericks
Emma Kollie
Glennon Orthober
Hadiyah Krueger
Hadley Carmichael
Hayden Burgess
Isaac Belcher
Jack Blue
Jackson Martin
Jacob Cole
Jamie Ashlock
Jenna Frederick
Jeremy Hays
John Kappes
Kathryn Bailey
Kenzie Skaggs
Kush Patel
Lukas Pietsch
Luke Caltrider
Mackenzee Gearhart
Maggie Templeman
Mason Hiep
Mason Wooten
Mia Adamski
Michael Penzone
Michael Scales
Morgan David
Natalie Eastes
Olivia Lovell
Peyton McCubbin
Rebecca Roberts
Robert Bransetter
Sam Eppert
Sarah Epstein
Sarah Foster
Taylor Majors
Teague Howell
Thomas Hawse
Tyler Lulek
Whitney DeHaven
Zack Wasson
Corporate Committee
Garret Towe
Corporate Chair
Hometown: Glasgow, KY
Major: Neuroscience
Minor: Spanish
I was introduced to DanceBlue through a friend of mine who was on committee the year prior. He told me all about it and I couldn't wait to jump in. I started off in DanceBlue on Corporate Committee and later worked my way up to Community Engagement Coordinator and finally Corporate Chair! DanceBlue shows you not only what family is, but how living a selfless life can impact the lives of so many others.
If you're looking to become a sponsor, want to donate an item for Silent Auction, or just have general inquiries about what a partnership with us has to offer, I'm more than happy to talk with you!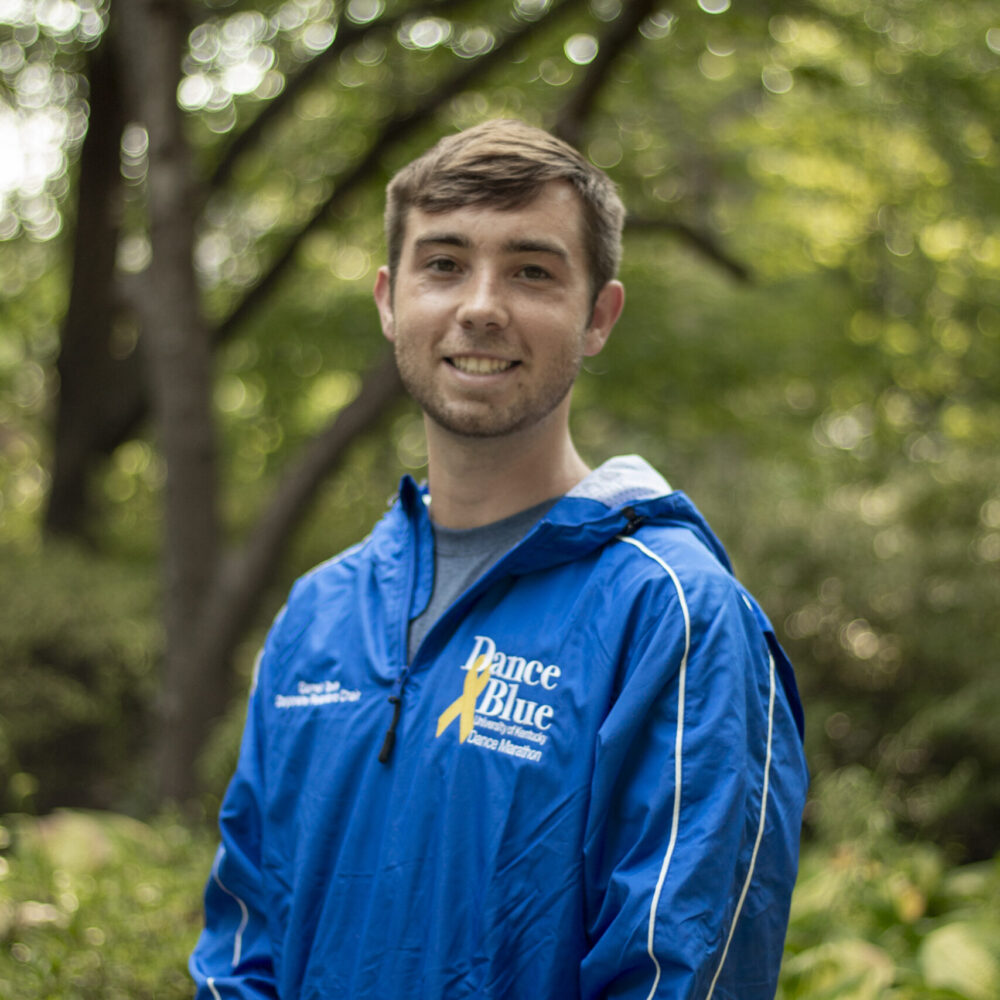 Claire Moffett
Claire Prater
Emily Cox
Emma Gibson
Ethan Ransdell
Jane Durbin
Joshua Griffith
Logan Thomas
May McInnis
Raychel Stone
Reed Schneider
Dancer Relations Committee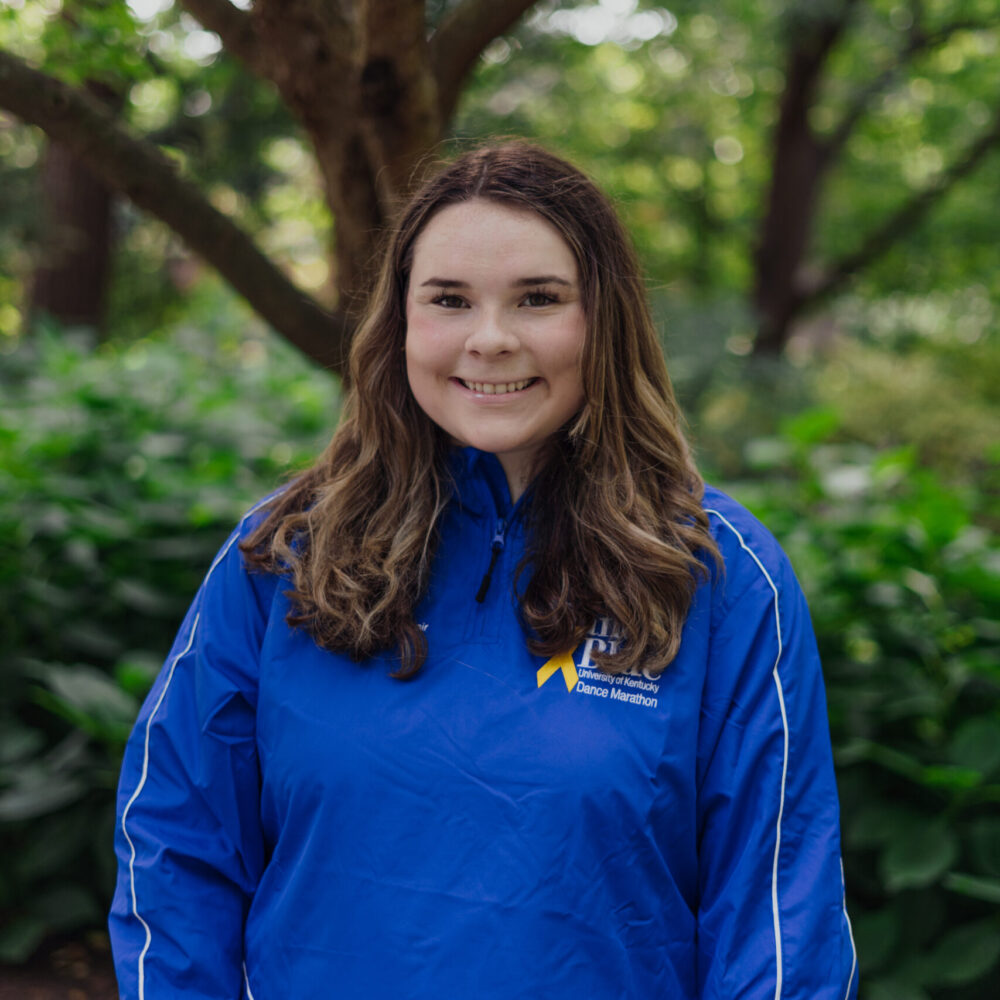 Christy Kirkham
Dancer Relations Chair
Hometown: Champaign, IL
Major: Communication Sciences and Disorders
Minor: Psychology
I started my journey with DanceBlue as a traditional dancer in 2020 and then became the team captain for my sorority in 2021. Last year, I served as the Dancer Outreach Coordinator on Committee and am now the current Dancer Relations Chair! I can't wait for an amazing year!
If you're looking to dance, start a team, or are a team captain, you'd reach out to me!
Family Relations Committee
Meghan Ratliff
Family Relations Chair
Hometown: Paintsville, KY
Major: Kinesiology, Pre-PA
I was first introduced to DanceBlue's tradition, reputation, and impact in early high school. Through social media, I watched as several UK students from my area posted their fundraising efforts, danced in the marathon, and served on committees. I became inspired by DanceBlue's mission and knew it was something I wanted to be a part of. Upon coming to UK, I danced on my sorority's freshman team in the 2022 marathon, and it was then that I fell in love with DanceBlue. During the 2022 marathon, it was evident that I not only wanted, but needed to do more to support clinic families and create more joyful moments for these ever deserving patients. I served on the Family Relations Committee for DanceBlue 2023, and it was one of the greatest, most rewarding experiences I have had to date. Seeing the resilience and unwavering strength of clinic patients and families is truly inspiring and is what pushed me to the role I am in today as Family Relations Chair. What I love most about DanceBlue is its story–past, present, and future–coming together to ensure that the life and legacy of Jarrett Mynear is never forgotten and that joy continues to prevail. 'Til the battle is won!
If you have a question about the DanceBlue clinic, you'd reach out to me!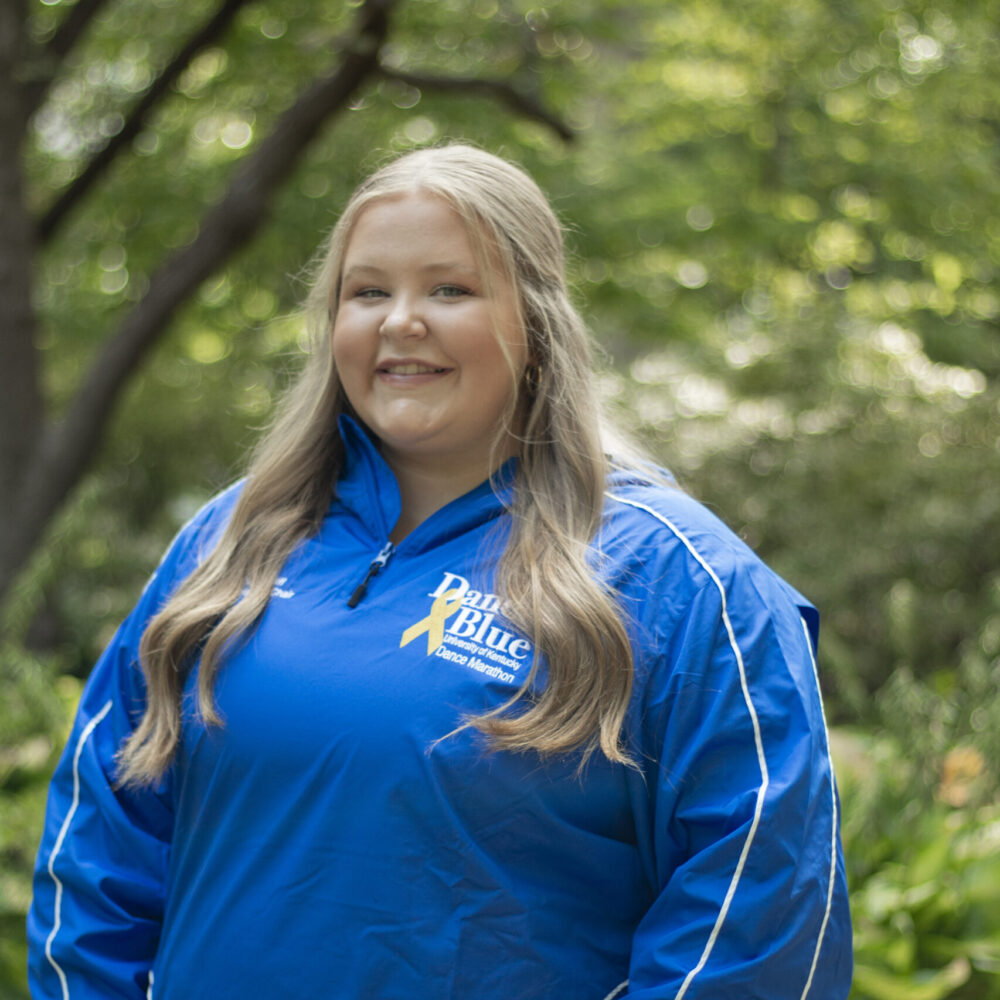 Adam Swofford
Brynn Martin
Emma Perry
Erin Johnson
Jackson Graves
Katie Anne Brown
Kelsey Kennedy
Lauren Witt
Lauren Worley
Lexan Roberts
Madison Bush
Morgan Russell
Rachel Mushlin
Rileigh Smith
Sydni Reeling
Tucker Lloyd
Fundraising Committee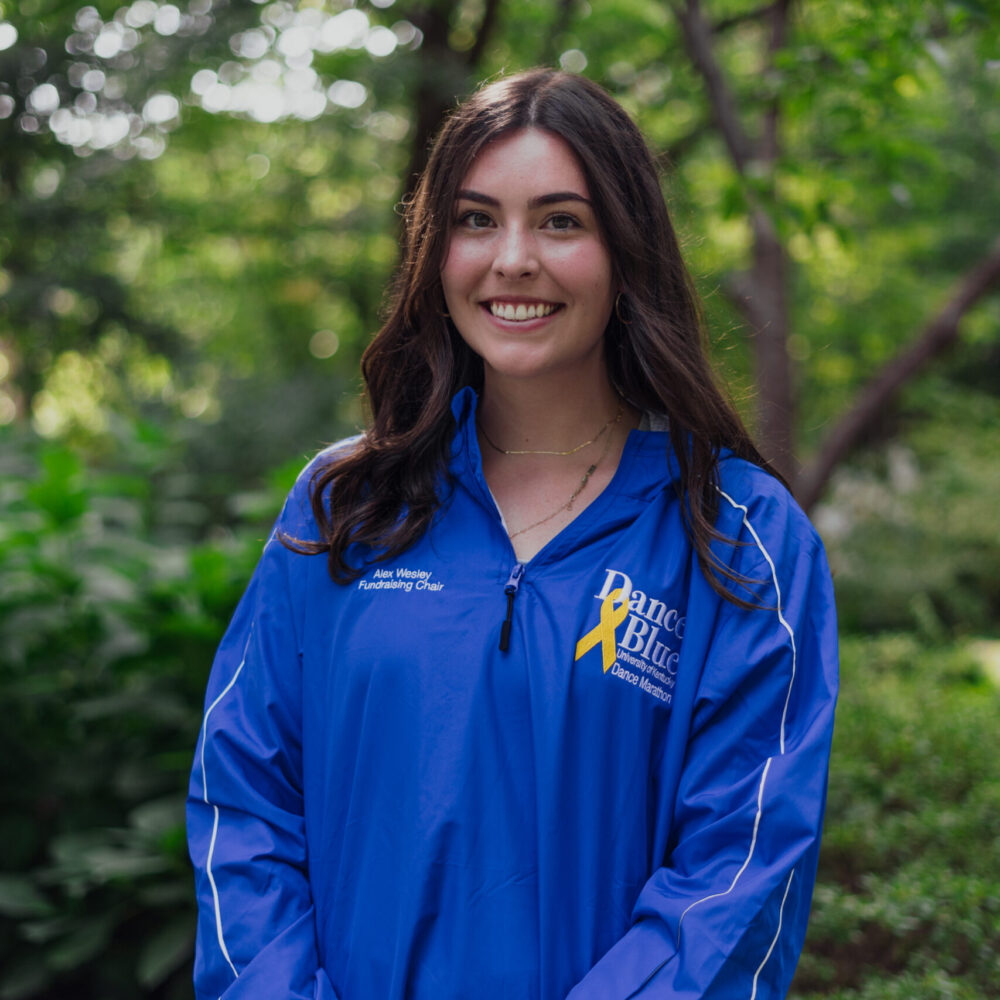 Alex Wesley
Fundraising Chair
Hometown: Georgetown, KY
Major: Accounting and Finance
I was first introduced to DanceBlue through a mini marathon at my high school. This left a lasting impact that carried into my college experience at the University of Kentucky. However, I did not fully understand the impact DanceBlue had until I danced for my sorority's team my sophomore year. Since then, I have served on Corporate Committee and currently hold the role of Fundraising Chair! Being a part of an amazing community in DanceBlue and serving a greater purpose has been THE highlight of my college experience.
If you have any questions regarding fundraising or Network For Good, you should reach out to me!
Marketing Committee
Annika Hijalda
Marketing Chair
Hometown: Lexington, KY
Major: Media Arts & Studies Major
Minor: Communications
I was introduced to DanceBlue back in 2011 when my brother went through treatment in the clinic. After that, I participated in my high school's mini marathon before eventually joining committee here at UK. Since then, I have been on morale, technology, and now marketing!
If you have any questions regarding the Bluetique/Merchandise, you can reach out to me!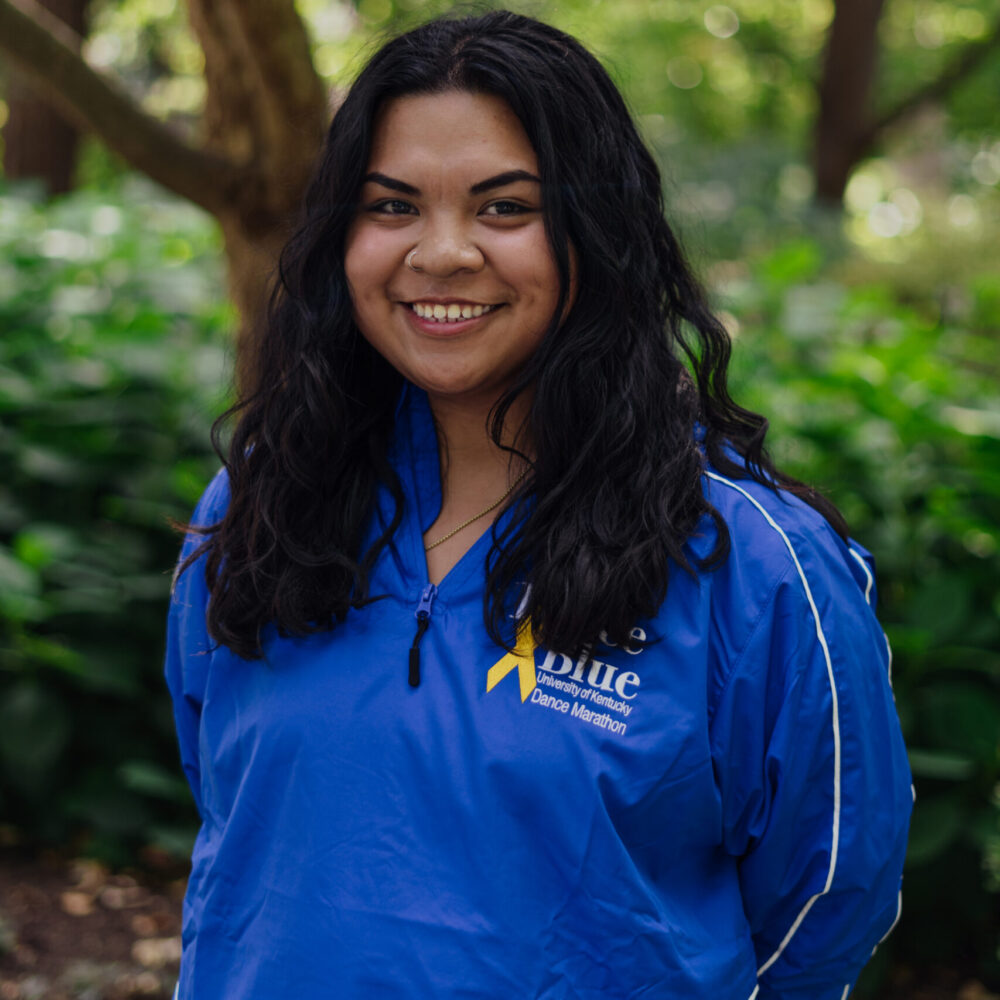 Mini Marathons Committee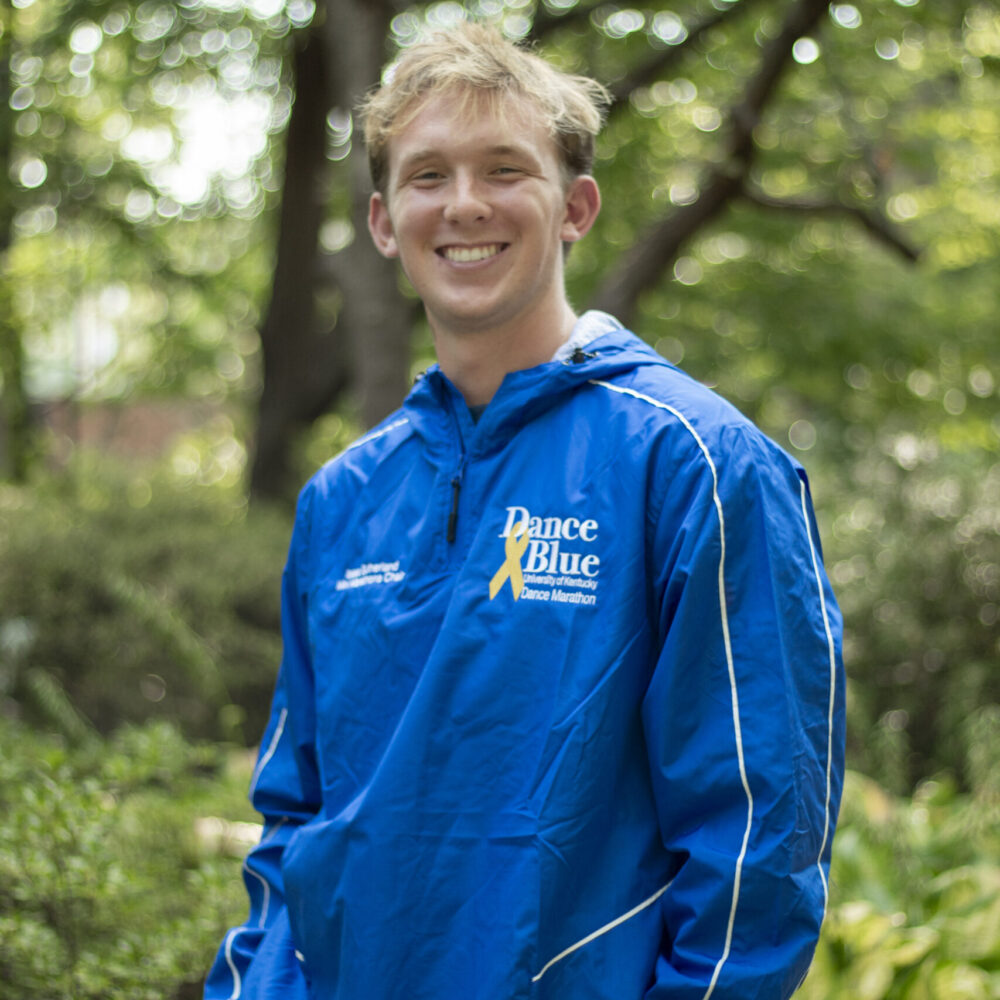 Isaac Sutherland
Mini Marathons Chair
Hometown: Huntington, WV
Major: Political Science, Community & Leadership Development
I was first introduced to DanceBlue through a former Moraler while I was in high school. She encouraged me to found DanceGreen, a fundraising campaign that supported the Hoops Family Children's Hospital in Huntington, West Virginia. In 2021 I joined Morale, where I worked the past two years leading Morale Groups at Marathon as well as attending Mini-Marathons across the state. My new role as Mini-Marathons Chair allows me to work with tenacious students throughout the Commonwealth to support members of our communities from diagnosis to remission. Working with schools and community partners is our team's speciality and we cannot wait to celebrate the lives of our kiddos!
If you or someone you know would like to start a Mini-Marathon, or is interested in organizing a community/school based fundraiser for DanceBlue, let me know!
Operations Committee
Lakin Puckett
Operations Chair
Hometown: Elkhorn City, KY
Major: Human Nutrition, Pre-Dental
I was first introduced to DanceBlue through my sorority big. She was a member of Family Relations Committee and recommended that I get involved with DanceBlue Committee. I applied for Operations Committee and served there during my sophomore year at DB22. I continued my time working with DB Operations Team by serving as Volunteer Coordinator at DB23. I am now leading the Operations Committee and Coordinators for DB24 as the Operations Chair and I could not be more excited. In my new position, I am looking forward to planning/executing the "Color Me Blue" 5K on campus in October and also our 24-Hour Marathon at a brand new venue in the spring!
If you have questions about registering for the DanceBlue 5K or volunteering at the 24-hour marathon, reach out to me!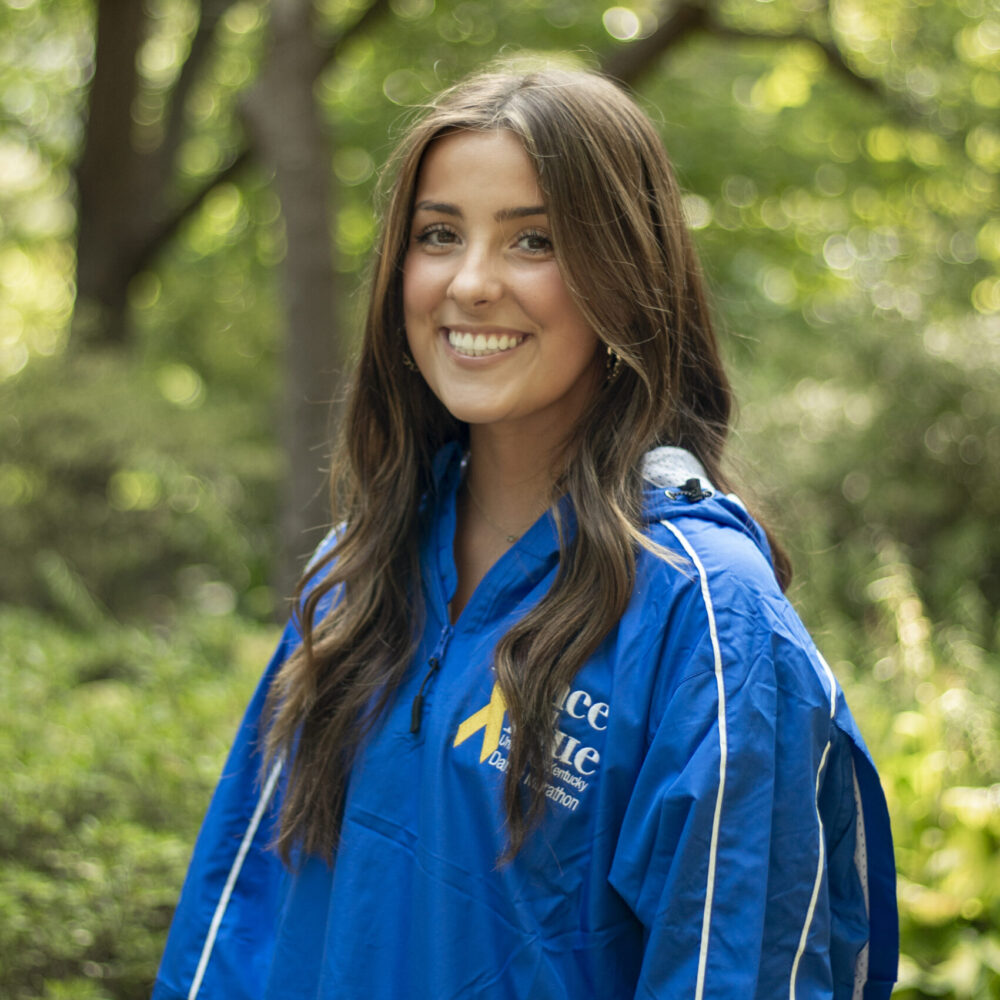 Bonnie Beth Olsen
Cami Sergent
Emily Hale
Haley Butler
Jacob Marquez
Jamison Butler
Joshua Koch
Kaden Chiles
Kaley Sloan
Kennedy Qualls
Kylie Goins
Mackenzie Conklin
Marissa Sautkus
Mike Gilbert
Natalie Hayosh
Olivia Young
Raegan Peterson
Rafe Hemmerlein
Sarah Tackett
William Rister
Zora Woolfolk
Programming Committee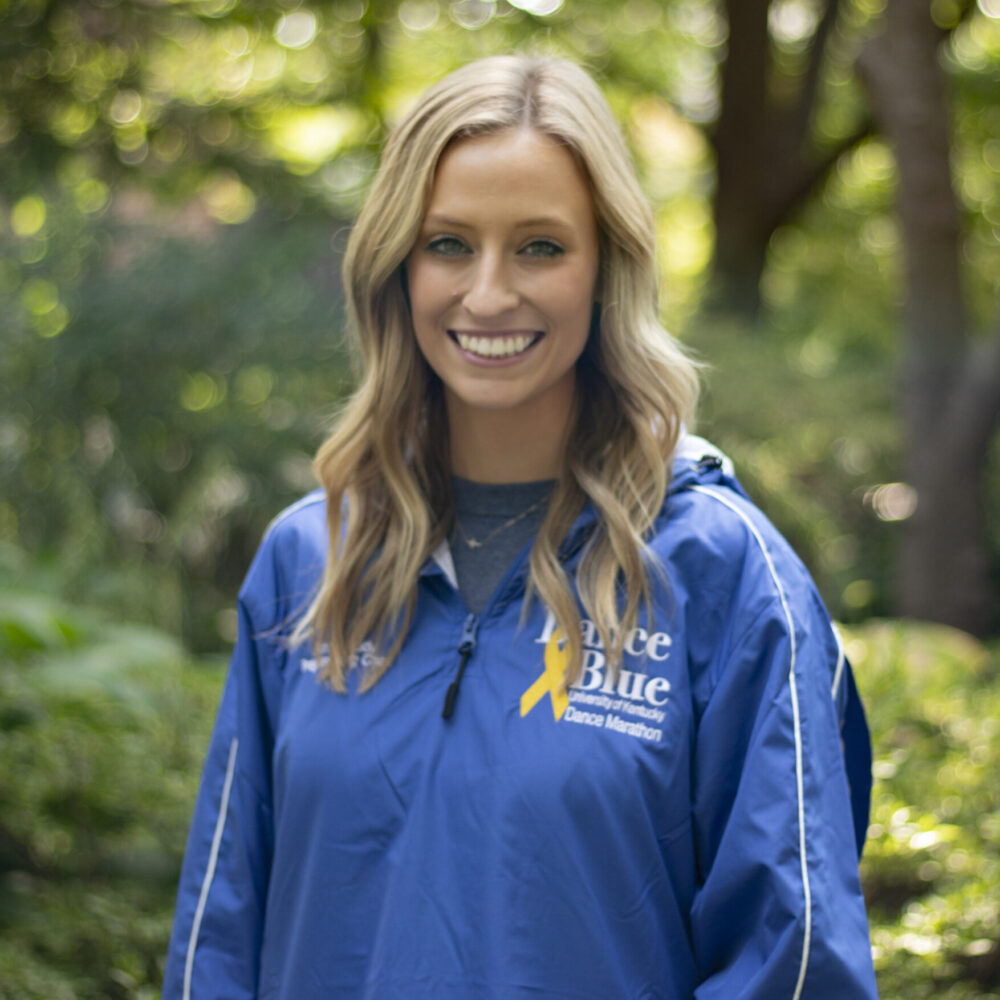 Ashton Rudy
Programming Chair
Hometown: Paducah, KY
Major: Special Education
I was first introduced to DanceBlue my very first weeks on campus. The upperclassman that I was friends with in my sorority constantly told me "You have to get involved with DanceBlue!" Therefore, I decided that my first year I would join our sorority's freshman team and be a dancer. After I participated in my first marathon, I decided that I had to get involved and join Committee. I knew that this organization was something that I was passionate about; therefore, I wanted to be involved more. Thankfully, I was given the opportunity to be a part of programming committee my sophomore year where I had so much fun making a ton of memories with some of the best people while planning the hours. After sophomore year marathon, I decided to apply for a coordinator position and I had the opportunity to be the Internal Marathon Coordinator. I loved this role because I was able to think more about the logistics of the marathon and put all of our committee's ideas into the minute-by-minute format of the marathon. At the end of my junior year marathon, I decided to apply for Programming Chair because I knew that programming was something that I have developed a passion for through my college years and with the experience that I had, I thought I could help our committee continue to execute our role of planning hours and helping shape the dancers' experience. I am so excited to serve this year and help lead the Programming Committee and coordinators to help make this years marathon the best! Stay tuned for all the exciting themes and activities that are in the making for DanceBlue 2024!!
Planning a mini marathon and want to know the logistics behind planning themed hours and the activities? Contact me!
Alex Chaney
Brooklynn Buboltz
Carson Neal
Ellie Boitnott
Haley brown
Isabel Bankemper
Jenna Rampenthal
Kat Logan
Katelyn Muegee
Kennedy Park
Lauren Suiter
Lauryn Hagan
Madeleine Spencer
Madison Evans
Max Libby
Megan Ansert
Ryan Gibson
Tomas McCormack
Technology Committee
Matt Bartholomai
Technology Chair
Hometown: Louisville, KY
Major: Computer Science
Minor: Digital Media & Design, Math
I was first introduced to DanceBlue in high school, and knew that I wanted to be a part of it! After watching the virtual marathon during my freshman year at UK, I applied for a committee position and immediately found a home in DanceBlue. For two years, I served as a Video Coordinator on the Technology Committee, helping plan and facilitate video production for social media, mini marathons, and the marathon itself. As the Technology Chair, I now lead four coordinators and a small committee in video, photo, and app and website design!
If you have any questions about video or photo production, the app, the website, or any content produced for marathon, you can reach out to me!
Allie Pennington
Camille Dyer
Cassandra Almond
Jack Bell
Keiler Belt
Kimi Dutka
Matthew Sepulveda
Skyler Trowel